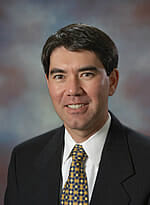 Ophthalmologist Serving Carson City and Reno, NV
Robert S. Wolff, MD, was raised in central California and went on to graduate from Amherst College in Massachusetts. In 1991, he received his medical degree from Vanderbilt University in Nashville, Tennessee. He then completed his ophthalmology training at the University of Minnesota in 1995, during which he was a recipient of the Minnesota Sight and Hearing Association Research Award. Following that, Dr. Wolff spent time in Anchorage, providing emergency eye care for the state of Alaska. Seeking a return to his western roots, Dr. Wolff joined a practice in Reno in 1996, where he spent over seven years building a reputation for high quality eye care that patients could depend on. Finding the Carson-Gardnerville-Tahoe region underserved, Dr. Wolff opened Sierra Nevada Eye Center, Ltd in Carson City in 2004, where patients can receive the same high quality ophthalmic care that he is known for. Dr. Wolff opened his Reno office in 2008.
Dr. Wolff is Board Certified by the American Board of Ophthalmology. He is a member of the American Academy of Ophthalmology and the American Society of Cataract and Refractive Surgeons. He also is a recipient of the AMA Physician's Recognition Award.